Curious to see what we are all about? Come by at 20:00 each week for social dancing – free and open to all! The bar is open and we'll keep the music playing.
Tuesday night schedule:
19:00-20:00 Course for registered participants (see below for registration and payment details)
20:00-22:00 Open practice and social dancing (free!)
Shim Sham and Tranky Doo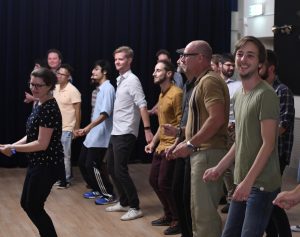 This course is suitable for both total beginners and those who have already taken our other courses. We will focus on two classic routines, the Shim Sham (approximately two weeks) and the Tranky Doo (approximately 4 weeks). For those of you that already know the basic Shim Sham steps we'll show you a few alternative stylings so you can make it your own! No parter is required, as they are both solo jazz routines.

6 week course
Tuesdays at 19:00 at Fanfarezaal Sint Servatius (St. Theresiaplein 18)
Dates: Starts November 6, 2018, no class November 27, last class December 18
Prices: 45 Euros (regular) or 30 Euros (student/PhD student)
Once we have confirmed availability and processed your registration, we will contact you by email with payment details and to confirm your spot.