Curious to see what we are all about? Come by at 20:00 each week for social dancing – free and open to all! The bar is open and we'll keep the music playing.
Tuesday night schedule:
19:00-20:00 Course for registered participants (see below for registration and payment details)
20:00-22:00 Open practice and social dancing (free!)
Intro to Swing Part 1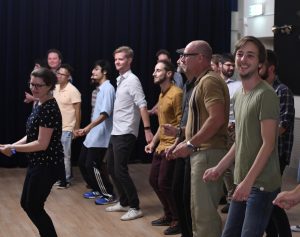 This 8-week course teaches you the basics of the Lindy Hop. It is designed for total beginners so anyone is welcome to join! The Lindy Hop is a partnered dance that originated from the African-American community in Harlem, New York in the 1920's/30s. It is a lively energetic dance that is closely connected to jazz music popular at this time.

Timing: Tuesdays at 19:00
Location: Fanfarezaal Sint Servatius (St. Theresiaplein 18)
Dates: Starts on January 15, 2019. No class March 5, last class March 12
Prices: 60 Euros (regular) or 40 Euros (student/PhD student)
Registering with a partner is not required, because we rotate partners throughout the class, but doing so increases the likelihood that you will be able to join the class. We will put individual registrations on a waitlist and process them as soon as someone in the opposite role registers. Once we have confirmed availability and processed your registration, we will contact you by email. Please bring cash to the first lesson to finalize your place.