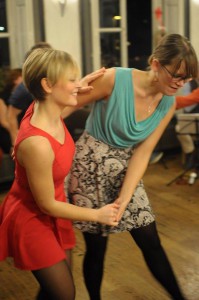 Our current Intro to Swing class is now full, so if you haven't registered yet we hope you can join on a future date instead!
Already tried a few classes? Then come join us on October 21st for a workshop with Katrin and Jesús from Cologne!
Whether you have participated in our classes before or are totally new to swing dancing, you are very welcome to join us between classes each Wednesday for social dancing at Club Vibes from 20:00-21:00. The bar will be open and we'll keep the music playing!
Photos thanks to Alan Reinders
What is Lindy Hop?
The Lindy Hop is a partner dance that originated in the 1920's
and 30's in Harlem, New York. The dance is a fusion of many dances but is mainly based on jazz, tap, breakaway and Charleston.
Want to take a peek? Check out these classic videos taken in the famous Savoy ballroom, or some modern-day inspiration from some of our favorite dancers.
Who are we?
We are a group of dancers who love swing dancing! We formed Swing Out Maastricht so we could introduce the Lindy Hop to Maastricht and share our passion with all of you.