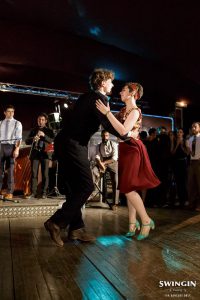 We are excited to welcome Pasha and Yana back to Maastricht for another workshop! This time around they will give three partnered classes designed to show you how to make your dancing light and easy.
From Pasha and Yana:
"We really believe, that dancing is quite similar to regular communication. Imagine, that the intense of your connection is a volume of your voice. Usually, on a dance floor we use much more energy, that we need, and the connection is going stronger: and we are «shouting at our partner». Instead of shouting all the time, we can speak with a different tone and have light and pleasant connection. In our class we will learn how not "to shout" at your partner, use less, but stay heard."
Class 1: 10:30 – 11:30 (beginner)
Class 2: 11:45 – 12:45 (beginner + intermediate)
Class 3: 13:00 – 14:00 (beginner + intermediate)
Beginner level: Suitable for students who know a few basic steps (e.g., you joined our Intro to Swing Part 1 class).
Beginner + Intermediate level: Mixed class for beginner and intermediate dancers.
All classes will include different moves and routines that will help you create a relaxed and comfortable connection with your partner.
After class is done, come explore Maastricht with us! We'll first stop off at one of the many delicious places to eat in the city center, and then the lovely Minouk will lead us on a tour of the city. If you're interested in joining the tour, meet us at the clock in the Vrijthof at 16:00!
In the evening, we are excited to join the inaugural party of Nothing but the Swing in Liege! If you have a car or are interested in a ride please note this in your registration and we'll try and match people up. Entrance to the party will be free for all workshop participants!
Pricing
1 class: 15€
2 classes: 25€
3 classes: 35€
Register here!
About Pasha & Yana
Pasha:
"I started my dancing life with a boogie-woogie about 7-8 years ago, but after a while I fell in love with lindy hop I still can't imagine my life without it. I like to be close to the jazz roots and spreading the way old timers danced but at the same time trying to be myself with my own style."
International competitions:
Harlem, Vilnius, 2013 (strictly – final)
Swingin Paris (2014 JnJ – 2nd place, strictly – final, 2015 strictly – final)
Atlantic swing festival, Lisbon, 2015 (JnJ – final)
BRUX 2015, Brussels, (JnJ 1st place)
Lindy Shock, Budapest, 2015 (advance JnJ – final)
Dragon Swing, Krakow, 2015 (advance JnJ – 2nd place, strictly – 3rd place, solo – final)
Yana:
"I started dancing a little bit more than 2 years ago and after my first dance lesson I understood that I want to devote it all my free time: dancing every second, every day. I went to each party and each lesson. When I had a free hour, I spent it in the ballroom. After a year I won my first competitions, found Pasha and we started practicing together. As a teacher, I would like to stay close to the roots, pay attention to technique part, but not losing sincerity and lightness in dance.
As for me, it is very important to know the history of swing era. I believe, that dancing is just like human's relations: keep smiling and support each other."
International competitions:
Dragon Swing, Krakow, (2014 solo finals, 2015 – advance JnJ – final, strictly – 3rd place, solo – 3rd place)
Swingin Paris (2015 strictly – final)
Herrang 2015 – solo – 1st place, lindy hop strictly 1st place.
MXDC 2016 JnJl 1st place