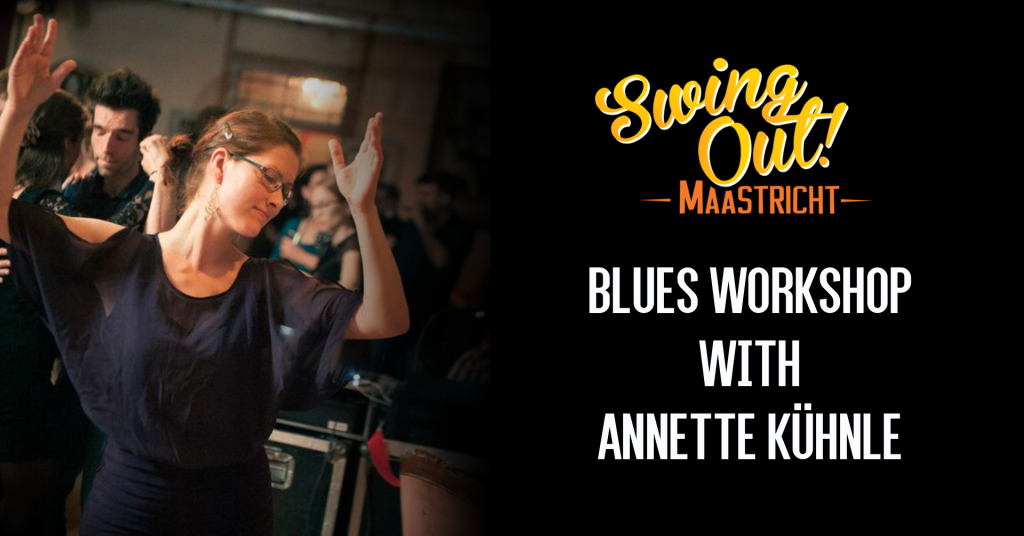 Don't miss it folks, the lovely Annette Kühnle is coming to Maastricht to teach us some blues dancing ♥
Annette hails from Heidelberg, Germany and is one of Europe's most prominent proselytisers of blues dance as a teacher, social dancer, DJ and organiser. Her love of teaching and dancing are infectious and if you've travelled for blues, you probably already knew that!
Annette is excited to be teaching in Maastricht for the first time and she is looking forward to helping you bring out your inner awesome!
Her classes will introduce you to different styles of blues dancing and will be suitable for all levels – from complete blues beginners to dancers with experience curious to try out new styles.
Down South (partnered)
In this session, we'll explore both the raw, highly rhythmical blues from the Mississippi Delta and the playful, fingerpicking blues from the Piedmont plateau area. Learn how to adapt your body and dancing technique to both and how to emulate the differences in the styles with ease.

Blues with a Swagger (solo)
Get your hips movin' and your feet groovin' with this gritty blues routine that we'll continuously spice up until it's just relaxed improvisation. This class will provide ample opportunity for you to work on one of the most essential aspects of blues dancing: knowing how to move your own body to the music with style.
Big Cities (partnered)
In this session, we'll visit the big cities of the blues: With New York in mind, we'll learn how to move across the floor in relaxed close embrace and how to become the most expressive member of the orchestra. In Chicago, we'll explore how to re-direct momentum between partners in a way that creates opportunities for individual expression.
Schedule
Friday:
Come join us for a pre-party at Cafe Zondag for a (cozy) kick off to the weekend. 22:00-3:00
Saturday:
10:45-12:45 Down South
12:45-14:15 Lunch break
14:15-15:15 Blues with a Swagger
15:30-17:30 Big Cities
Saturday evening party: Takin' it Slow
19:30-00:30, Fanfarezaal Sint Servatius, St. Theresiaplein 18. 
Live blues guitar music by the amazing Duketown Slim with DJ-ed slow swing music.  9€ (regular)/7€ (student), free for workshop participants.

Locations
Friday pre-party
Cafe Zondag, Wycker Brugstraat 42, 6221 ED Maastricht

Classes and the Saturday evening dance will be held at:
Fanfarezaal Sint Servatius, St. Theresiaplein 18

Prices (per person)


Early Bird
(Until March 15th)

Regular
(After March 15th)
Down South (partnered, 2h)
25 €
30 €
Big Cities (partnered, 2h)
25 €
30 €
Blues with a Swagger (solo, 1h)
15 €
20 €
Full pass
55 €
65 €
Get your blues on!