January 21-22nd we will have Intensive dance workshops with Elze and Peter. And by saying intensive – we mean that! Each course will contain two 2-hour dance classes and if you think it is not enough, it is possible (and recommended) to take Responsible dancer's course on top. There we will not only be practicing our dance moves, but also will dig into theory of dance roots, musicality, and body awareness. Are you ready for it? Because we are!
During the event we will experience:
4 to 8 hours of classes in two days
Party with Live Music from our amazing local bands
Amazing All Star Teachers
History talks and brainstorm sessions (Responsible dancer's course)
TEACHERS
Elze and Peter are maybe just the right amount of crazy you've been looking for. She comes from Lithuania, while he comes from Los Angeles and together, they have this Euro-American style all about fun and connectedness. Their musicality, playfulness, and creativity are not just parts of their light-hearted personalities as dancers, but also as instructors. For them, Lindy Hop is much more than only leading and following… it's dancing… trying to feel your partner… and in the meantime having a freaking great time!
Their energy is contagious and their class material is stimulating. Be prepared for loud laughs, crazy fun, and exciting new moves!
Elze Visnevskyte
Elze Visnevskyte is a professional dancer, choreographer and educator from Vilnius, Lithuania. She has been traveling to teach and perform around a world for more than 10 years now. She is growing a local scene in Vilnius where she is one of the owners of What a Jazz dance studio. Her influence is incredible not only locally but internationally. Her What a Jazz podcast shows how much she cares about the culture, so be sure to check it out!
Peter Kertz
Peter Kertz began dancing the Lindy Hop in Los Angeles, where he was born and raised. Following his passion for dance, he started to travel the world to discover international swing dance scene. In 2012, Peter moved to France and began teaching around Europe. In his opinion, To him, dance is as a language without words, bringing people together, connecting them both literally and figuratively across all walks of life.
As you might know already from our previous events, we always try something a little different. This time we are exited to introduce Responsible dancer's course. Here we will try to speak about our and dance values and what responsibilities we carry dancing this dance. We will also have a tips and tricks class, where we will learn communication skills as dancers as well as educators.
Since we want to get intensive (!), we strongly recommend to combine a dancing course track with responsible dancer's track to get full experience during the weekend.
Responsible dancer
Responsible dancer (teacher) – in this course we will jump into deep historical roots of swing dances. Our goal here will be to bring structured perspective on dance origins and how it spread (thought in a way). This class will include theory as well as practice. We strongly recommend it for community leaders and teachers. It is also suitable for eager dancers or people who wants to start teaching. Since it is knowledge based, you don't need to be advanced technical dancer to enter it. In other words, it is open level.
Intermediate
You should join this course if you are familiar with all basic figures (Lindy circle, swing out, sugar push) and Charleston basics. You can switch between 6 and 8 counts without losing your rhythm. Dance for you is a hobby and you would like to challenge yourself more than regular classes. You are eager to improve your technical level of your body and your musicality skills. If you think it is description of you, then jump in. We want to add something to your journey of dance!
Advanced
You go to social dance with a stranger with no doubt. You cannot spend few weeks without thinking of dancing and always searching where to go. Let's face it – your travels are dance related. Dance festivals are your regular get aways. You are not afraid to come back and work on your basics, because you know there are still tons to be learnt. So come if you are not afraid to sweat and we will bust our bodies to have pleasant physical hangover after a weekend.
Regular prices from 1st January
| | |
| --- | --- |
| Full pass Lindy (4h Lindy) | 135 € |
| Full pass Responsible dancer (4h of educating material) | 135 € |
| All in (4h lindy + 4h of educating material) | 195 € |
| | |
| *Party is included in the ticket. Separate party tickets will be sold at the door. | |
| | |
Make sure to come at least 30 minutes before the class if you are not yet registered!
Saturday
| | | |
| --- | --- | --- |
| | Fanfarezaal (Sint Servatius) | |
| | | |
| 10:00 – 12:00 | Advanced track | |
| 12:00 – 13:00 | Lunch break | |
| 13:00 – 15:00 | Responsible dancer's track | |
| 15:30 – 17:30 | Intermediate track | |
| | | |
| 20:00 – 01:00 | Saturday night party with live music | |
Sunday
| | | |
| --- | --- | --- |
| | Fanfarezaal (Sint Servatius) | |
| | | |
| 10:00 – 12:00 | Intermediate track | |
| 12:00 – 13:00 | Lunch break | |
| 13:00 – 15:00 | Responsible dancer's track | |
| 15:30 – 17:30 | Advanced track | |
Workshop Location
Fanfarezaal Sint Servatius: Sint Theresiaplein 18, 6213 CG Maastricht
Party Location
Saturday Party at Tapijn Brasserie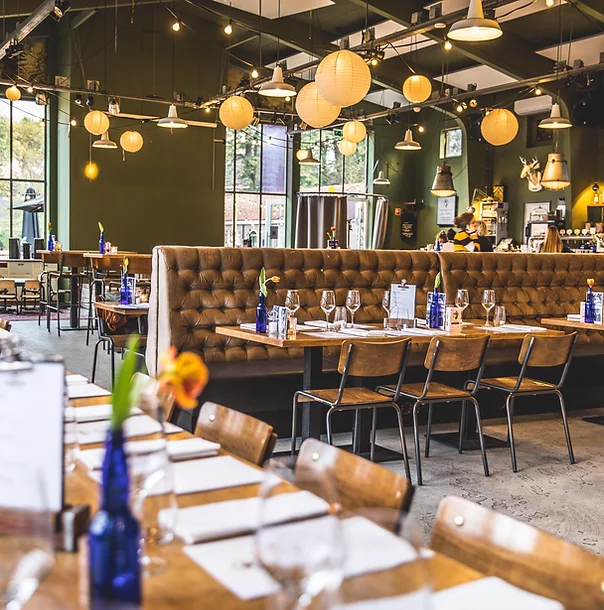 In the beautiful Tapijn Brasserie, with charme of the 1940ies we will have our kick-ass party!
Live music will be provided by an ensemble of excellent Maastricht conservatory musicians – the Shaky Legs Swing Orchestra will make you feet dance – as they already have at Lindy en Maas
Party starts at 20:00
Party will end at 01:00